Please donate to help me keep this site online.
Pens for sale
Selected stores
10 Fountain pen tips
Pen repairs
Parker Pen catalogue
Interview: G Hollington
Feature: Parker Archives
Parker Technical Division
Web-TV
Metric converter
Date codes and other
Ask Tony
Contact
Join newsletter
About me
Donate
FPN Forum (link)
Vacumatic Guide
Montblanc Guide (old)
The Penography:
* = images pending
** = info and images pending
Which model is my pen?
Parker 15
Parker 17
Parker 19
Parker 21
Parker 25
Parker 3-in-1
Parker 35
Parker 41
Parker 45
Parker 50
Parker 51
Parker 61
Parker 65
Parker 71
Parker 75
Parker 85
Parker 88
Parker 95
Parker 100
Parker 105
Parker 180
Eversharp 10.000
Parker Arrow
Awanyu "Aztek"
Parker B5
Parker Big Arrow
Eversharp Big E
Parker Big Red
Parker Black&Gold
Parker Black Giant
Bookkeepers Special
Bulldog Special
Parker "Bullet" Pen
Parker Centennial
Parker Challenger
Eversharp Challenger
Parker Classic
Parker College pen
Parker Contact
Parker Debutante ••
Eversharp DeLuxe
Parker Desk Sets ••
Parker Dimonite
Parker Dip Pen
Parker Dollar Pen
Eversharp Doric
Parker DQ
Parker Duette
Parker Duofold
Parker UK Duofold
Parker Duo-Tone
Parker Duovac
Parker Ellipse
Parker Emblem Pen
Parker Esprit
Parker Executive
Parker Eyedropper
Parker Facet
Parker Falcon
Parker Filigree
Parker FP-1
Parker Frontier
Parker Galalith
Eversharp Gamin
Parker Geometric
Parker Golden Arrow
Parker Hopalong Cassidy
Parker Imperial ••
Parker I.M.
Parker Inflection
Parker Insignia
Parker Itala
Parker Ivorine
Parker Jack Knife
Parker Jointless
Parker Jotter
Parker Lady
Parker La Plume
Parker Latitude
Parker Liquid Lead
Limited Edition
Parker Lucky Curve
Parker Mercur
Parker Minibille
Parker Minim
Parker Mixy
Parker Moderne
Parker Multy
Ms Parker
Parker Parco
Parker Parkette
Parker Pastel
Parker Patrician
Eversharp Point *7
Parker Popular
Parker Pre-Duofolds
Parker "Pregnant"
Parker Premier MK I
Parker Premier MK II
Parker Profile
Parker Raven
Parker RB-1
Parker Red Giant
Parker Reflex
Parker Rialto
Parker Shorthand
Parker Silver Dollar
Parker Slimfold
Parker "Snake"
Parker "Swastika"
Slinger/Swinger ••
Parker Special •
Parker Sonnet
Parker Systemark •
Parker T1
Eversharp Teena
Parker Televisor
Eversharp Tiara
Eversharp Tip Wic
Parker Touché ••
Parker Trench Pen
Parker True Blue ••
Parker Urban
Parker Vacumatic •
Parker Vacuum Filler
Parker Valentine •
Parker Varsity
Parker Vector •
Parker Victory
Eversharp Victory
Parker VP
Parker VS
Parker Writefine
Parker X
Parker XL
Parker Zephyr
Parker—Eversharp
Acknowledgements



1984—current

Better images coming!



he roller ball itself had been around for a while. Both the fiber tip pen and the roller ball had been introduced by Pentel already back in 1963. But Parker had been fiddling with their own idea to use fountain pen ink with a ball point pen, utilising the best features from the two pens. Since ball pens use a thicker oil based ink, a ball point pen will always need more pressure in writing, which could be tiresome if used for a prolonged time. With a more fluid ink writing would be more like using a fountain pen The problem with a more fluid ink was to prevent the pen from blobbing. Parker worked on the new liquid ink system for five years, according to UK managing director Jaques Margry. Eventually the patent for Parker's completely new roller ball system was filed in April of 1975 with Fred Wittnebert as primary inventor, by then it was already in production.
ittnebert had designed a refill that was in a way part of a mini-fountain pen in a closed unit. It contained floating ink, a feed and a collector. The ball was designed to give way a fraction of a millimeter when pressed against paper. This allowed the ink to flow down around the ball, giving a very wet and pleasant writing experience. When the nib was lifted from the paper the ball flexed back and shut off the ink flow, thus preventing blobs.

The Systemark was test marketed in Winnipeg in Canada in the spring of 1974 and became very popular.

Jaques Margry had seen the potential of the new refill and decided to develop a pen especially designed around the roller ball, and he wanted it fast! The process was described as being designed basically on the back of a cigarette packet by a handful of Newhaven people. Parker called it the RB-1, for Roller Ball.
Click on the image for a larger view!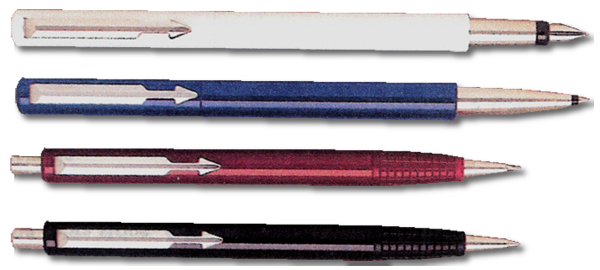 | | | |
| --- | --- | --- |
| he new RB-1 roller ball became immensely popular and after the introduction in England in July of 1981, and in the US in September, it sold in more than two million units before Christmas. Parker describes the roller ball in an in-house newsletter as meeting a "staggering demand" and Malcolm Troak in his book "Pen to paper" reveals that the RB-1 quickly became the brand leader in that particular segment of the marketplace. In early 1982 the Parker Pen Company in the US were down going on out, so George Parker decided to bring in a new management team from outside the company. This was previously unheard of. Parker had always been a family company. Parker offered James Peterson, an executive vice-president at R. J. Reynolds, the job as Parker's new president and CEO, and Manville Smith was recruited as president of the writing-instrument group. James Peterson's business vision was to transform Parker to a highly centralised company. One company with one strategy. | | his strategy eventually would prove devastating for both the business and the morale at Parker. Not the least in Newhaven, UK, the company's most profitable subsidiary. Newhaven had in fact been bringing home the bacon for Janesville for years. And now Janesville was telling Newhaven how to run their business leaving Newhaven out of the decision loop. When Manville Smith arrived as president of the writing-instruments group, he evaluated Parker internationally and he was shocked to see that Parker only had a six percent share of the global pen market, and didn't take part at all in the segment that was responsible for 65 percent of the world-wide pen sales, pens that sold for less than $3. This was in fact the very area George Parker II had decided to leave in the late 1960's when he shut down Parker-Eversharp. Smith decided against George Parker's wish that it was essential to participate in the lower end of the market in order to survive. |
Click on the image for a larger view!

hen Manville Smith discovered that Parker in the UK already had developed a pen that would fit his strategy to enhance the low-end market, he decided that the Janesville facilities were in immediate need of an upgrade, and $15 million was invested in a new hyper-modern factory which main objective was to manufacture the RB-1 roller ball, with the new price of $2.98. Smith calculated that the pen could be produced for as low as 27 cents, which would of course result in huge profits. Malcolm Troak tells us how Smith decided to close the Janesville's Arrow Park factory in the US from May to November 1983 for the remodeling. This meant that Newhaven had to supply the world demand for six months. Incredibly enough Newhaven rose to the challenge and at times managed to produce more than a million pens pen week! While the RB-1 was taking a large chunk of the roller ball market, the Systemark was silently phased out.
eterson had given Manville Smith six months to get the Arrow Park running again, but it was soon clear that it would not be finished for the Christmas season of 1983. The new factory was to be computer-automated but it broke down repeatedly and Parker eventually had to hire manual labour again to fulfill the Christmas demands, which cost Parker millions of dollars. After the Vector, Manville Smith had planned goto even deeper into the low-price market with the Itala, which would be Parker's first disposable pen. George Parker reacted fiercely against it, and was in fact so enraged about the idea of diminishing the Parker trademark by offering a throw-away pen that he had Manville Smith fired, even though his RB-1 strategy had proved very profitable. According to Smith himself the failed Janesville-Vector time-line provided George Parker with a good reason for letting him go.

The RB-1 originally came in black only, but from July 1983 it was offered in Jet Black, Dark Blue, Burgundy and White.
Click on the image for a larger view!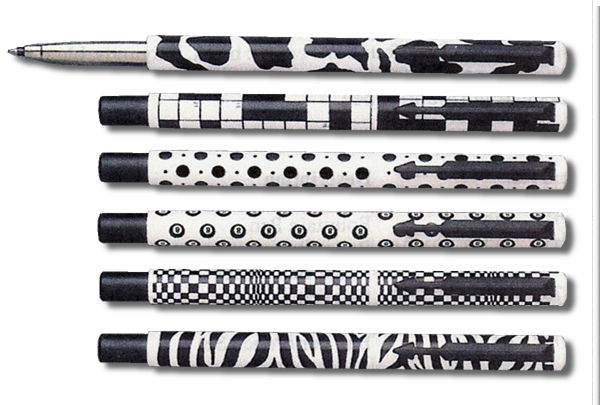 n February of 1984 a fountain pen, the FP-1, was added to the RB-1 line, but Parker soon decided to change the name. From March of 1984 the FP-1 was referred to with the more elegant name Vector, a Latin word meaning "carrier". (In the epidemiology Vector also refers to an organism that transmits a pathogen from reservoir to a host, but it is unlikely that Parker had this in mind :-) This new fountain pen was also offered in the four solid colours of Black, Dark Blue, Burgundy and White, and the nib sizes Fine or Medium. The new Vector pen was also slightly redesigned in late 1984. The barrel from the RB-1 and FP-1 was slightly shortened, while the gripping section and cap became a little longer on the new design. Parker in the UK had initially produced a clip, very similar to the Parker Arrow clip that was made in one curved piece, but Parker in the US wanted the RB-1/Vector to use the two-piece clip of the Arrow. Since then Parker UK had had costumer complaints about the sharp edges of the two-piece clip and also realised that it was prone to breakage. Hence the one-piece clip was now added when the Vector design was introduced. Besides the clip it's hard to distinguish between the two models, unless you have one of each for comparison.
rom August of 1984 the Rollerball was also referred to as the Vector. The Camo MKI "King of the Jungle" was introduced with a military camouflage pattern, but as a rollerball only. There were also two desk sets available, a single and a double, in matte black with matte black desk pens that had a chrome end-button. The single desk set cost $6.98, the double $12.98 and the desk pen cost $3.49, while the Standard Rollerball pen cost $3.49 and the Fountain pen cost $4.98.

Already in October the Fountain pen cost $5.49 while the Rollerball sold for $3.98.

he Arrow clip had the appearance of a chiseled-out arrow with three facets. It had no engraved feathers and was a very modern and clean design, fabricated to allow easy engraving on the clip. The first 1981 RB-1 models had "Parker" engraved on the clip, but this soon disappeared. Also the design of the pen itself made it perfectly suited for printing company logos and messages on it. Especially white Vectors were being sold in great numbers by telemarketers to corporates as promotional packages. The Vector was now being manufactured and sold in huge numbers also in the US.

Click on the image for a larger view!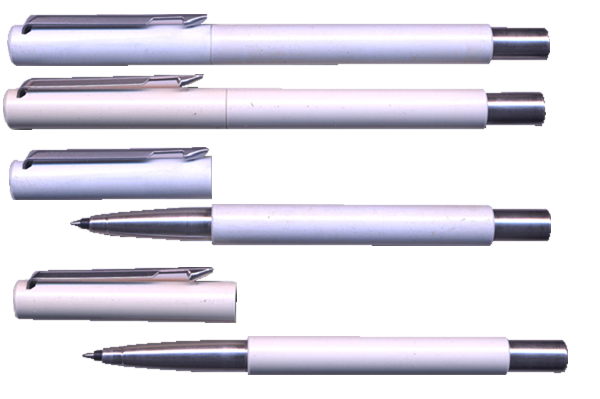 lso in 1984 Parker offered a Vector roller ball printed "Parker 200th Consecutive Dividend 1934-1984", in white on a dark blue barrel Made in the UK. It marked the 200th Consecutive Dividend payment to stockholders. This special edition Vector Roller Ball Pen was offered free of charge to all stockholders in a regular gift box.

Another special edition was a white Vector roller ball printed "Directions to Health", printed in black, followed by a red cross. It was given out to all employees and members of their families who participated in a Parker exercise program that ran April 2 — June 15, 1984. By January 1985 a stainless steel Vector (collectors refers to it as a "Flighter") was introduced with a black top. The Flighter fountain pen cost $10, while the Parker charged $7.50 for the rollerball version.

ater in 1985 commuters at the Waterloo Station in London were surprised to see a giant 1.8 meter model of a Vector posted on a 3x1.2 meter blank poster. Passersby were invited to share witticisms, as long as they were brief and clean, which were blown up and mounted on the poster the following day. The promotion was called "The art of making your mark" and also included remarks by celebrities like Geoffrey Archer, Nick Baker, William Franklyn and Jilly Cooper, among others. The promotion was a huge success and was repeated at Selfridges, a high end London store, and other stores around the UK. In the US promotional packages featuring personalised Vector rollerballs were sent to 18 000 US businesses that regularly used ad specialty items such as pens, lighters, and key chains. The package included examples of Parker using up to six colours on the pens for commercial messages. That campaign alone resulted in orders of more than $140 000, and telemarketing follow-ups had total sales for the corporate markets rise more than 31%, compared to the previous fiscal year. But things weren't going well enough for Parker in the US.
Click on the image for a larger view!

here was a wide sense of resentment towards how Parker was run and of the management, and following "very stringent cuts" in all areas, morale was low and the production so problematic that Peterson resigned the day before New Years Eve in 1985.
 
With Parker in the UK there was a completely different story.
Rollerballs were now the fastest growing sector. According to a 1985 article in the UK Marketing magazine, Parker UK had a dramatic increase of 74 percent over the previous year. Parker still dominated the fountain pen market in the UK with a 36 percent share, with the rivals Platignum and Sheaffer following at 16 and 13 percent market shares, respectively. But rollerballs now accounted for 24 percent of the pen sales, of which Parker had an 18 percent share. Parker's dominance in the UK rollerball market were also discussed in the UK Stationary Trade review, noting that Parker had captured 78 percent of the £1.99 and over section in only three years. Barrie Robinson, Director and General manager of UK sales and marketing, noted in the article that part of the reason for the success was that the rollerballs were offered in a vast spectrum, from everyday writers to the "very special gift or presentation".
n February 1985 the Flighter Vectors now cost $12.50 and $8.50 respectively. The Standard Vectors were now also produced as Ballpoints and Mechanical Pencils with 0.5 mm lead. The fountain pens cost $7.50, the other models $5.98.

Also in 1985 several new Rollerball finishes were introduced.
The Special Was introduced as a fountain pen and Roller ball.
The Mode, advertised as "Clean European Design" it came in three colours: Striped Green, Striped Red, and Striped Blue, these cost $6.98 each.

The Sport, was offered in the three primary colours of Sahara Yellow, Flame Red, and Azure Blue. It sported a Black clip and was offered as both a Rollerball and Ballpen, both priced at $5.98.

Black 'n' White, was another new finish. "They're hip. They're cool. They're wild and crazy." It was a rollerball series priced at $6.98 with six distinctive patterns: Cow, Crossword, Polka Dot, Eight Ball, Optical Squares, and Zebra Stripe.


The Americana rollerball was yet another design introduced this year, the Star Spangled Vector, also priced at $6.98.

The Camo MKI were now also offered as Ballpoint and Mechanical pencil, but still not as a fountain pen.
Click on the image for a larger view!

nother novelty was the Vector Calligraphy set at $30. It was a Vector Standard pen with replacement point in Fine, Medium and Bold, and was sold with six cartridges, two each of red, blue and black and a booklet.

Also in 1985 Parker offered a Vector roller ball specially designed for Janesville's Sesquicentennial 1835-1985. It was a white pen with "Janesville Sesquicentennial 1835-1985" lithographed in blue diagonally around cap & barrel and a red Sesquicentennial Seal, with Janesville Sesquicentennial in red encircling it.  The pen was offered in a regular gift box. Two models were made but only one used.

In August of 1985 a green Vector roller ball was produced to celebrate the 1986 Australian bicentennial, it sported an orange plastic clip with a stylized Australian map and an orange decal. The suggested retail price $3.98
ventually Parker Newhaven succeeded in a buyout of the Writing Instruments Division in February 1986 and corporate headquarters moved to Newhaven, England. Despite a world recession, Parker increased its turnover by almost 50% in the five years following the management buyout.

In 1987 the Vector Special was discontinued and the Mode was renamed Vogue. It was aimed at the youth market and came in "fashionable pastel colors". By 1988 ballpens and pencils had been added to the Stainless steel Flighter models. The Standard Vector had a pushbutton while the more expensive Flighter were cap actuated. Clips and buttons now made in stainless steel.
Also in 1988 the first Camo MKI style was discontinued. The Sport were now also offered as a pencil, but still not as a fountain pen. The Mode 89 was introduced as a fountain pen, roller ball and ball pen, while the desk sets were discontinued.
Click on the image for a larger view!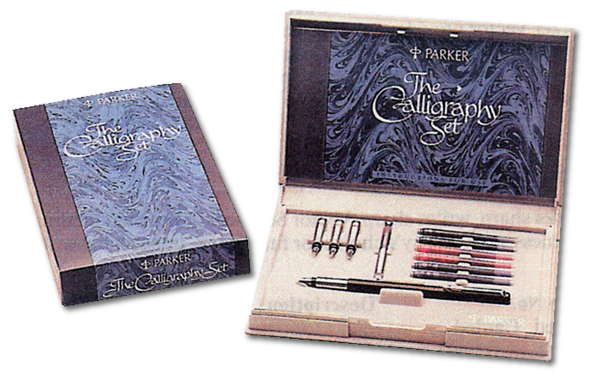 n July 1989 Camo MkII, Woodland, was introduced, initially not offered as a fountain pen, but a fountain pen Camo MkII was introduced before Christmas. Also the calligraphy box were offered in two versions, the Essential came with two nib units and four cartridges, and the Deluxe, with three nib units and six cartridges. At last the Sport fountain pen joined the team, while Mode 89 was discontinued.

After the summer in 1990 the Electra model were introduced. It had "electric bars" of Teal, Fuchsia and Berry on black pens. A new Mode 90 in Matte black was introduced aimed at the French market. The Mode 90 was discontinued already in 1991. A second Camo MKII model, the Desert, was being offered along with the Woodland, and a Special Edition Desert Storm and Desert Shield was also offered.

In 1992 the colour Polar White was added to the Sport. Also the Geometric was introduced with three brightly coloured designs as a Fountain Pen, Rollerball and Ballpoint. The fountain pen cost $8.98 while the rollerball and ballpen sold for $7.50.

n June of 1993 the Nations rollerball was introduced, it was printed with twenty-one different national flags from the countries with the highest tourism to the US (yes, Sweden was one of them!).   Later the Camo MKII fountain pen and pencil was discontinued. The Standard, Geometric, Camo Desert, Black'n'white and Americana were still being offered.

In february 1994 the Desert Camo MKII was discontinued and in May the Digital rollerball with purple clips and trim, priced at $7.50, was introduced.

Later in 1994 the Vector line was updated with a new more streamlined clip. The Mode, Camo MkII Ballpoint, and the Sport were discontinued while three new Deluxe finishes were introduced; the Dichroic: in Pink, Purple, and Green; the Metallic: in Blue, Red, Green, and Grey; and the Translucent: in Blue, Red, and Green.

In 1997 the Primitive was introduced, as was the Iridecent, a gel pen in Maroon, Blue, Green, and Grey.
Click on the image for a larger view!

he Fusion was introduced in 1998, in blue, red, and green, fading into black ends. The Translucent was renamed Prism, and Dichroic renamed Spectrum, while the Iridicent was discontinued. This name confusion might be the result of the models having different names in the US and Europe.

1999 the World Time Pen Rollerball was introduced, as well as the Euro Pen and the Vector C which sported white trim and came in the colours Black, Green, Red, and Blue. Most likely aimed at the European market. Also the Skyline, in fountainpen, rollerball, ballpoint and mechanical pencil, and Timeline in fountainpen and rollerball, was introduced.

The names Translucent and Dichroic were back in the 2000 catalogue. Vector Greenwich, the Vector Millennium Special edition was also offered in 2000 to commemorate the new Millennium. It was produced in two finishes and in four high gloss colours; Standard in black and blue and Translucent in red, blue and gree, made by the Parker-Luxor factory in India. It was printed with a world map with major cities on the body, making it possible to tell the time difference between various parts of the world with the twist of the cap.
he Vector lineup in 2001: Standard, Translucent, Americana, Camouflage, Metallic, Dichroic, Flighter and Calligraphy.

In 2002 only three Standard colours remained, Black, Blue, and Red, as the White was discontinued. As was the Americana, Camoflage, Metallic and Dichroic. The Translucent, Flighter and Calligraphy were still being offered. A new addition was the Matte Black, epoxy resin coated. And the Adrenalin Special Edition: Ski, Surf, Skate and Skateboard.

n 2003 the Vector XL was introduced, a twist action actuated ballpoint with stainless section and spring loaded streamloaded clip. Another addition was the Vector 3-in-one, a pendulum actuated multi pen, based on the German Four colour.


In 2004 the Calligraphy Essential was phased out.
In 2006 "Vector" was removed from the XL and 3-in-1 lines.
By 2007 only the Standard, the Flighter and Calligraphy remained in the line-up.

Click on the image for a larger view!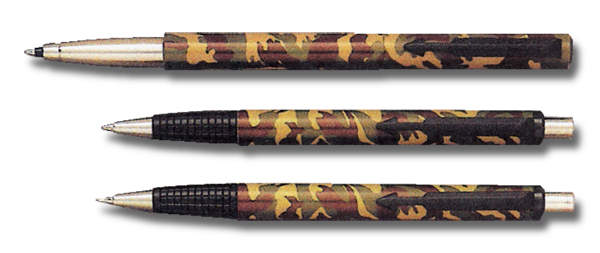 n 2009 the Calligraphy was phased out. The Special Edition Eco Time was introduced in Yellow, Brown Tags, Black Stamps, and Blue Vine as Fountain pen and Rollerball. Parker also offered a Vector printed with Batman logo as a FP and BP in an official licensed Special Edition in two different bubble cards for the fountain and ball pen. It was also offered as a set in a black faux leather pen pouch with zippers, again with the Batman logo. It was made in the UK for the European market.
In 2010 the Newhaven factory in the UK closed, and the Vector production was moved to India and China. The Premium Chiseled Satin Black, Classic, and Shiny was introduced as Fountainpens and Rollerballs

From 2013 the Standard Vectors were mainly being offered for business to business in Black, Blue, White and Flighter and as Rollerballs and Ballpoints only. For the consumer level Special Editions are still being manufactured.


Parker UK and US didn't always follow each other as many new designs were being constantly introduced and phased out. Furthermore companies could order specialised designs for their promotions.

ince the closing of Newhaven India and China has produced a multitude of Special Editions. Hence it's virtually impossible to cover all the Vector designs in this article.

ere are a few Special Editions made in recent years:

Pinstripe: Yellow, Green, and Red; Metallix: Red, Black, and Blue; Mexico: White, Green; Stork; Vector Series; Swirl, Hoops, Purple w Dots; Pret moi, Jungle, Do the Write thing, Looney tunes: Tweety (burgundy, and white versions) Taz, Bugs Bunny, Daffy Duck; Raincoat; Family Day 2000: Blue, and White; Gold plated "Flighter"; Techno Vibes; Butterfly; UK mania blue and white; Do the write thing; Go greenish; Boy, Girl; Shrek; Time Zone; Coin; Taig Khris inline; Checker: Black, Blue, and Red

Special thanks to Graham Hogg
and Jim Mamoulides.
Click on the image for a larger view!